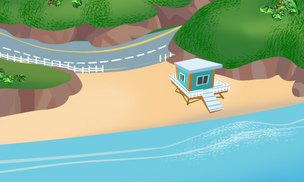 The Beach is the part-time home of Wilfred the Fish and where Barbie and her friends often spend their time away from the Dreamhouse. It is not next to any other location, but is close to The House of Nikki and The Mall. It has a small, blue surf shack.
Official Description
Edit
Malibu is world-renowned for its beaches. Whether catching sweet waves or just taking in the rays, Barbie and her friends make the sun and sand their home away from the Dreamhouse.