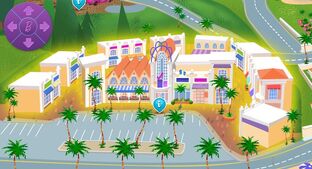 The Mall
is where all of the Dreamhouse characters go once in a while to relax and have some fun. It is close to the Campgrounds and The Beach. It looks like a normal shopping center mostly in tan and white, but has other colors unique to each store. It is where The Restaurant, The Barbie Boutique, and The Raquelle Boutique are. It is possible the dolphin shown in the thumbnail of the dolphin/porpoise in Accidentally on Porpoise is from the "trained dolphins show" in the official description.
Official Description
Edit
This is the ultra shopping, dining, and entertainment destination for Barbie and her friends. Whether they're checking out hot boutiques or dining at trendy restraunts or watching the latest trained dolphins show, this is where they live the fab life.
The Restaurant
Edit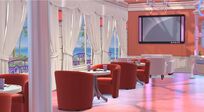 The Restraunt made an appearance in Bad Hair Day. It was shown to have soup in that episode, but in the description it also says to have filet minion, gourmet burgers, and salads. There are red or white comfy chairs at each of the tables, and a smoothie bar in the back. There are also chandiliers hanging from the ceiling. There is a TV on the wall.===Official Description=== This dining spot is the hottest in Malibu. All the fab-tastic people are seen here. From filet minion to gourmet burgers or salads, whatever tasty mood strikes, Barbie and her friends can fulfill it here.
The Barbie Boutique
Edit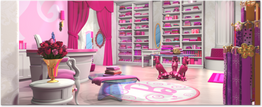 The Barbie Boutique made an apperance in the episode of the same name. In it, it was shown to have a full length mirror at the back, instant racks of belts, dresses, shoes, and other items, and a table that would pop up when someone sat on it.
Official Description
Edit
The go-to shop for everything glam-tastic! Barbie always has the most fab clothing, shoes and accessories, and so does her super cute boutique. Looking for the must-have item to glam up your favorite outfit? This is the place where everyone in Malibu goes.
The Raquelle Boutique
Edit
The Raquelle Boutique was originally created by Raquelle after seeing that Barbie was making one. She sent Ryan to fill her store with "stuff girls find irresistable", while she formulated a business plan and conducted market research (AKA "spy on Barbie"). Ryan did his job, filling up her store with lots of stuff featuring himself, much to Raquelle's annoyance. It has an "official me-brand picnic hamper", some guitars that look exactly like Ryan's, Ryan's outfits, a TV playing Ryan's music video, his cardboard cutouts, and some huge murals of himself.
Official Description
Edit
When Raquelle set out to create a boutique to rival The Barbie Boutique, she spied on Barbie in order to copy it. But, as hard as she tries, she is always one step behind her fab-tastic competitor. Still, she has one thing no one else has -- Ryan-abilia!